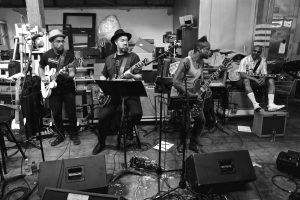 The Dark Room @ The Grandel is pleased to present a new exhibit by local photographer Nate Burrell, "Hail Hail Chuck Berry." Last fall, national recording artists including Pokey LaFarge, Britt Daniel of Spoon, Huey Lewis, and members of The Roots, Dave Matthews Band and Cage the Elephant came together with St. Louis musicians to pay tribute and perform the songs of Chuck Berry at 2017's LouFest Music Festival. Burrell, in partnership with LouFest and the Kranzberg Arts Foundation, captured photos at the practice and performance and presents those images in this new exhibit at the Dark Room.
"One of the fascinating aspects of live music is just that: it's a live performance. It's a shared experience between the artists on stage and the people in the crowd, and it only happens one time," says Burrell. "The images in this series pull back the curtain on the creative process and give an intimate look at a diverse group of musical strangers coming together from all corners of the U.S. to pay tribute to Chuck Berry."
From obscure rehearsal spaces to the main stage event, Burrell's photographs capture a behind the scenes look at the musicians who helped celebrate the sound and music of one of Rock and Roll's greatest legends.