"I am there"
By Orlando Thompson
On display December 2nd, 2018 – January 4th, 2019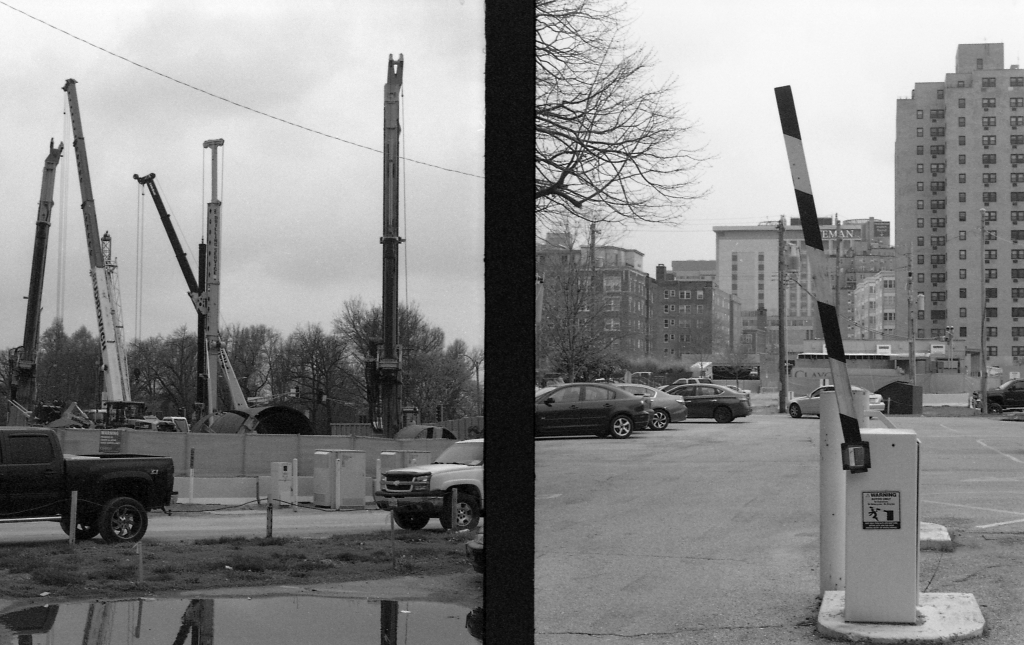 Artist Statement
I am black… I am american. This is how America defines me. Whatever I make explores being black, American and the space in-between. race, ethnicity, religion… who am I and when am I that person? My work is reactionary, I see or hear about something and I feel compelled to make… and to give back to the communities that make me, even if I feel alien amongst them. The art I produce wants to find and place me in worlds I am a part of but not emotionally attached to.
My photography is documentation of places my body has existed. For the last two years I've used 35mm half frame cameras to make photographs. Two images on every frame, each frame is a diptych. These photos are  moments I'm compelled to stop, compose and make a picture. Two photographs living in a single frame, started as individuals but are here to tell their story as one. They have become my tarot cards, and when I read them I discover a greater understanding of the photo's subject, and myself.
Artist Bio
Orlando Thompson is a movie maker, photographer, and podcast host based in St. Louis.
Working first as an actor before becoming entranced by production behind the camera, Orlando began his first film project, Follow Me, in 2001. The black and white silent feature-length movie was a mash-up of quick cuts, camera motion, and stylized compositions set to music. Follow Me laid the foundation for his unique cinematic approach.
In 2010 Orlando relocated to Doha, Qatar to produce video and documentary projects for Mathaf: Arab Museum of Modern Art, the first museum dedicated to modern and contemporary Arab art. Since then he has helped shape the digital personality through video and the documentation of artworks and programs at the Contemporary Art Museum St. Louis, Birmingham Museum of Art, Gwangju Biennale in South Korea and the Asian Art Biennial in Taiwan. Thompson has created narrative film, and video projects for national and regional Public Broadcasting Service (PBS)  markets and currently hosts The B-Side podcast featuring interviews with nationally recognized artists and creatives.
He is currently at work building a darkroom in his home and was selected to serve as a jury member for a new award called Spotlight, that'll be given to a documentary filmmaker at the St. Louis International Film Festival. His photographs and video reel can be seen at www.ovthompson.com.